Participatory projects
Anna collaborates with artists and clinicians in bio-medical settings to create innovative public art emerging from extended creative collaborations in hospital settings.  Recent projects include: Kicking Up Our Heels (2019 – 2020),  The Heart of the Matter (2016 – 2019) and MILK (2015 – 18) with artist Sofie Layton.  For over a decade she has worked regularly with artist Mark Storor and together they have established an ethical approach to making high quality innovative public art about some of the most difficult issues of public health. Mark and Anna completed The Barometer of My Heart in September 2015.  Visiting Time (2004), Boychild (2007) and For the Best (2009) and (2010) explored the connections between bio-medical science and the experience of illness all funded by the Wellcome Trust. For the Best was the winner of the 2009 TMA Theatre Award  for best show for children and young people.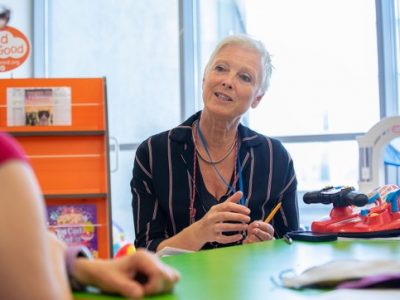 KICKING UP OUR HEELS
2019/2020
Anna Ledgard is part of a research team with artists Emily Underwood-Lee, Brian Lobel and Emily Speed at Great Ormond Street Hospital (GOSH).  The team worked with parents at GOSH and GOSH Arts to consider the importance of finding space for yourself when you're a parent or a carer of a child in hospital. The […]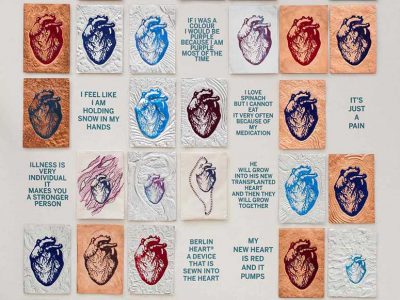 THE HEART OF THE MATTER
2016 – 2019
The Heart of the Matter is an exhibition that brings together art and medicine to reflect on the human heart. Through artworks inspired by patients with heart conditions, their families and clinicians, the exhibition invites you to discover the extraordinary nature and complexity of this organ. The Heart of the Matter was conceived by artist Sofie Layton and bioengineer Giovanni Biglino, and developed with health psychologist Jo Wray.

Making something makes the time go quicker, it makes it go differently
parent at neonatal unit
At first you just sit in the kitchen and don't talk but the art work triggers a way of opening up a conversation with others in a similar situation.
parent at neonatal unit
Rich and beautiful. A celebration of medicine, technology and life!
The Heart of the Matter
Audience
"The Heart of the Matter is a beautiful, thoughtful, evocative representation of what it means to be a patient, a parent, a doctor or scientist involved in treating people with heart disease." Dr Laura Coates
The Heart of the Matter
Doctor